Sentry Security was originally incorporated as SEBCO Security in 1980 as a wholly owned and licensed subsidiary of SEBCO Development.
It was established to help provide a safe and secure environment for our first new buildings at a time when much of the surrounding community consisted of abandoned buildings and vacant lots. Over the years it has grown to be a major employer with more than 200 guards presently on our payroll. In addition, it now provides coverage to many neighborhood residential and commercial customers unrelated to SEBCO.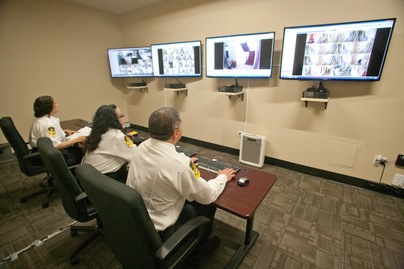 Sentry Security provides its clients with 24 hour security base coverage that enables residents to call in emergency situations that can trigger the dispatching of responders from our roving security vehicles. All of our officers are licensed and are given additional training in conflict resolution, crisis intervention strategies, communication skills, and community relations techniques. Every officer at Sentry Security is registered with the New York State Division of Licensing Services and their successful completion of the New York State mandated training courses of eight and sixteen hours is verified prior to employment.
Periodic refresher training sessions are held at every property to fortify each officer's training and to keep officers current with new regulations in the industry. Course material is adapted to address the requirements of the particular clients. Some of the training topics are: ethics, professionalism, emergency response techniques, crowd control, loss prevention, fire prevention, basic first aid/CPR, adolescent problems and solutions including issues with gangs along with report writing for incident reports and accident reports.
Sentry takes supervision very seriously. Sentry has learned that if you have good supervision you have good service. When supervision succeeds so does Sentry's mission. Sentry Security maintains a large staff of field supervisors that provide overt and covert inspections of our officers. Sentry Security provides twenty-four (24) hour field inspections in addition to the onsite supervisor. Field Supervisors, Site Supervisors, and Shift Supervisors all work diligently to guarantee that the quality of service rendered by Sentry officers is of the highest caliber.
In our goal to provide management with fresh accurate information, Security officers are trained to interact with residents without crossing the line. We train and instruct the security officers so they can communicate without destroying their ability to enforce the rules and regulations of the facility. We demand that officers maintain a professional distance when interacting with residents.
Sentry Security makes tremendous demands of its personnel, supervisors, managers, and administrators.
The result of this determination is a well-run professional operation that provides satisfactory results to our clients.
980 Aldus St. Bronx, NY 10459
P:718.589.1051 Fax:718.589.1059